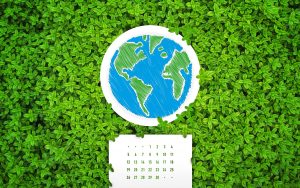 These links are provided for your convenience. However, they lead to external websites not created, managed, or maintained by Lehane Environmental. Lehane Environmental is not responsible for, and does not necessarily endorse, the opinions or products represented on these external pages.
These links are provided as a resource for ease in finding additional information. Such links should not be construed by their inclusion in our site as being supported or endorsed by Lehane Environmental.
EPA National Climate Conference, 15th May 2019, Aviva Stadium, Dublin
Wednesday, 15 May 2019
The EPA National Climate Conference, in collaboration with the Department of Communications, Climate Action & Environment will take place at the Aviva Stadium, Dublin.
Climate Change Lecture, 17th May 2019
Friday, 17 May 2019
The EPA, as part of the National Dialogue on Climate Action, will host a public lecture exploring climate leadership with the potential to create a low carbon, climate resilient, and inclusive world presented by Dr Edward Cameron, PhD.
ECO-UNESCO's Young Environmentalist Awards Final Showcase & Awards Ceremony
Thursday, 23 May 2019
Every year, for the last 20 years, hundreds of young people across Ireland have been battling it out to make it to ECO-UNESCO's Young Environmentalist Awards Final Showcase & Awards Ceremony.  To make it to the showcase, young people have to come up with an environmental action project and take real action in their local communities. The Convention Centre, Dublin
Wednesday, 29 May 2019
The National Water Event 2019 titled "From knowledge to action: improving water quality" will be held on the 29th and 30th of May 2019 in the Galway Bay Hotel, Salthill, Galway.
World Environment Day 2019
Wednesday, 05 June 2019
World Environment Day is an environmental awareness day run by the United Nations.  The aim of the day is to raise awareness of the environment and specific environmental issues.  This year the focus is "Beat Plastic Pollution".
3 For The Sea
Wherever we are, we are connected to the sea. The ocean provides us with the oxygen we breathe and the climate that sustains us. We need a healthy ocean for our own survival.  Plastic pollution is killing wildlife, devastating oceans and threatening the health of our planet. Plastic represents a disconnection. It's a material designed to last forever that we often use only once.
Simply, take 3 pieces of rubbish with you when you leave the beach and you have made a difference!