Specialist Tank Cleaning Contractor to Oil Industry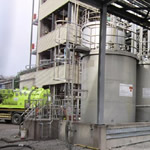 Lehane Environmental is a specialist Tank Cleaning Contractor to the Oil Industry. Petroleum Tanks can be highly volatile and so safety is of paramount importance when engaging in Tank Cleaning Operations to ensure the welfare of site personnel and the general public. Lehane Environmental's procedures for the cleaning of petroleum tanks are certified under our OHSAS 18001 Health & Safety Management System.
Our Specialist Tank Cleaning fleet and highly proficient operatives can handle tank cleaning projects on the largest petroleum tanks and can safely gas free them in accordance with OCTEL, Petroleum Regulations and Industry Best Practice.