The Maritime Industry faces an increasing number of environmental challenges, including more stringent environmental regulations, additional class notations and environmental standards such as ISO 14001. Although IMO Marpol 73/78 covers a wide range of environmental aspects, several international and national standards go beyond it.  The Marpol 73/78 Annex V covers garbage waste types such as food and galley waste, dry waste and dangerous waste.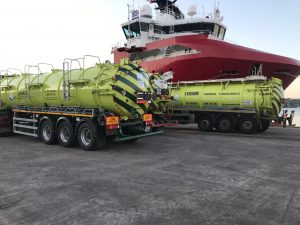 With ever increasing costs such as fuel etc, it has never been more important to ensure efficiency of your service providers.  Under current legislation ships are expected to discharge their bilge oil and other hazardous wastes such as paints and oil absorbents at each port.  Current service providers, who either do not turn up, arrive late or are inflexible, can cost shippers considerable time and expense.
Lehane Environmental can be a refreshing change to your current experience.  As long as we are given adequate notice, we will arrive to your specified time and carry out the works in a professional manner to recognised standards.  We also provide an emergency service to registered Clients for collections which have not been pre-notified.  Our Service is available 24 hours per day, 7 days per week.  We can liaise with the Stevedores or the Vessel's Chief Engineer to formulate a collection schedule which will suit the vessel's timescale.  In advance of the vessel's arrival to Port we will monitor their location allowing for adverse weather or other impediments which may delay their scheduled arrival.
With the use of deep lifting tankers and air pumps we can provide for the recovery of bilge oils from great depths.  Our Tanker Capacities range up to 27,000 ltrs providing for the efficient transport of the waste.  For hazardous solids such as paints and oil absorbents, we can provide UN Drums for the packaging of the waste and transport/disposal to licensed hazardous waste facilities.