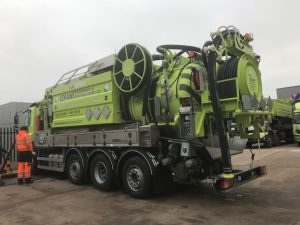 Lehane Environmental provide a range of High Powered ADR Combination Units and have now added Combination Recycler Units to our fleet. These units recycle the dirty water they collect whilst jetting pipelines and passes it through a patented cleaning process where the same water is then reused for jetting the lines. This offers both savings in resource usage (water) as well as higher efficiencies as it enables the Recycler Combination Unit to work continuously without having to stop to travel for water refills. The Recycler Unit is manufactured in Stainless Steel and has an internal tank wash system enabling a wide variety of chemical wastes to be also loaded/transported.
·         High Volume Recycler Unit – reducing potential water usage of up to 140,000ltrs/day
·         Continuous Jetting Capabilities as no need to travel from works site to refill with water.
·         Greatly suited for large diameter sewers, outfalls etc as no additional water required.
·         Inbuilt Computerised Hose Meterage Counter
·         Onboard GPS Manhole Location System
·         Permitted throughout Ireland, Northern Ireland and UK for Haz & Non Haz Waste Collection.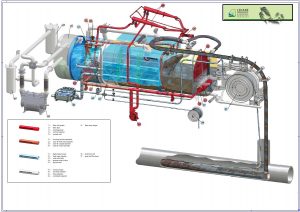 Features
Inbuilt Hose Meterage Counter

Waste Tanker Capacity 12,000 litres

Full ADR Specification – Class 3, 6.1, 8, 9

Flammables, Toxic, Corrosive & Env Hazardous

316 Stainless Steel Construction

Onboard GPS Manhole Location System

Deeplifting Capabilities

High Pressure Jetting (washdowns)

Internal Tank Wash System

Fully Remote Controlled