Safe Decommissioning of USTs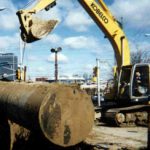 Lehane Environmental's specialist tank cleaning team can provide for the safe decommissioning of all underground storage tanks (USTs). We can also complete the Tank Cleaning Project. We are recognised nationwide as the industry leaders in safe decommissioning procedures and have been called in to many sites after other contractors have attempted to decommission tanks with disastrous results. One such site resulted in a person receiving third degree burns when the petroleum tank exploded.
Safety is a necessary cost in many of our activites and sometimes when this is added into projects the cost appears to be higher than alternative quotes that may not reach the required health and safety standards. This is why you should choose Lehane Environmental for your high risk activities, a company which is externally audited by professional bodies and whose management systems are certified to Health, Safety and Environmental Standards.
UST Decommissioning – Turnkey Solution
Civils
Mechanical
Tank Cleaning / Gas Freeing
Tank Cleaning Waste Transport & Disposal
Decommissioned Tank Transport & Disposal
Soil Testing & Remediation
Reinstatement Works