Irelands Largest Mobile Storage Tanks!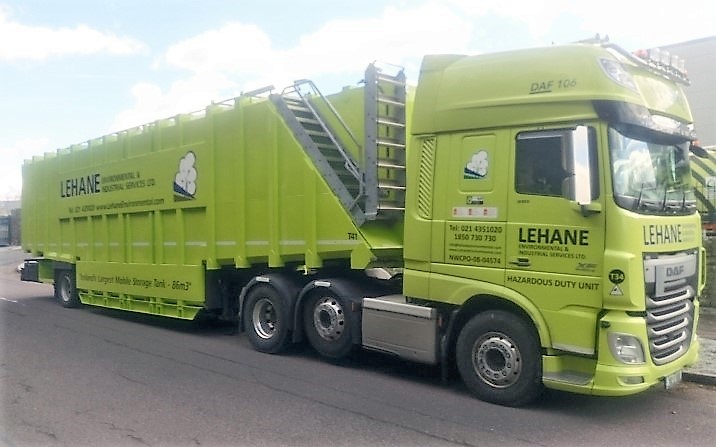 Lehane Environmental provides a range of on-site and off-site waste storage and treatment solutions.  Our 86,000ltr tanks are ideal for projects which require a large volume to be stored whilst minimizing the footprint.  These storage tanks store almost 3.5 times the quantity of a normal articulated storage tanker in the same footprint as a single storage tanker.
These impressive storage tanks can be mobilised on their own or as part of a larger mobilisation with additional 25-86m3 Storage Tanks for both influent and effluent.  We can also provide additional on-site treatment services such as pH adjustment and dewatering using flocculants.
·         Small footprint – Length 12.93m x Width 2.54m x Height 3.96m.  Weight 26,200kgs Unladen.
·         Lined interior for broader range of liquids – pH 5 to pH 13
·         Multiple connections for easy filling and emptying
·         Genuine 24 Hour, 7 Day Emergency Response Service to Registered Clients
·         Safe working environment, platform with safety railing and Folding Stairs Access
·         Level Indicator
·         Easy Cleaning Design – Top Access Manlids and Side Access Manlid Available.
·         Additional services include pumping, filtration, pH adjustment skids and hosing
·         Provision of waste tankering both on-site and off-site to facilitate works.
·         Permitted throughout Ireland, Northern Ireland and UK for Haz & Non Haz Waste Collection.